malaga beaches
Malaga, the heart of the Costa del Sol, not only offers a large number of monuments and cultural sites, but also has some of the best beaches on the peninsula.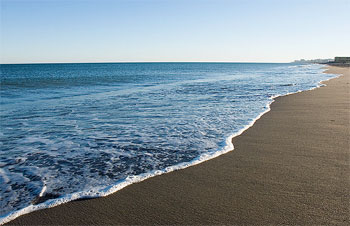 Malaga beaches - Guadalmar
Protected by mountain ranges and the mountains of Malaga from cold winds and blessed by a mild climate, the Costa del Sol of Malaga brings together along more than 160 km an innumerable amount and variety of beaches and services. Visitors can find both popular beaches of the most visited tourist resorts as well as hidden coves, beaches and dunes, sand, gravel and nudist beaches, easily reachable booking a car hire in Malaga.
In total there are 14 municipalities in Malaga looking onto the Mediterranean Sea. In the tourist resorts on the beaches there are usually at hand good facilities and services. A typical and traditional installation on the beaches of Málaga and along the sea promenades are the Chiringuitos (Beach Bars). In these places, which are a mixture of bar and restaurant, you can find the good traditional cuisine of Malaga and the typical Espetos de Sardina (baked sardines) and Pescaito frito (fried fish).
The city of Malaga has a coastline of 40 km of beaches of various types and compositions, from fine sand to rock, very popular urban beaches and semi-urban beaches and natural beaches. The best known beaches in Málaga are Guadalmar, Huelin and La Malagueta, located near the port and very frequented by both locals and tourists alike. Then there are the coves and rocky beaches to the east of the city (Pedregalejo, El Palo, Peñón del Cuervo), which are often surrounded by small bays and usually less crowded and more romantic.
Going beyond the municipality of Malaga, we find the towns of Torre del Mar and Nerja on the eastern Costa del Sol and the towns of Torremolinos, Benalmádena, Fuengirola, Marbella and Estepona on the western Costa del Sol, all with a wide variety of beaches and services.